Advanced SEO course is all about mobile, technical, and social tactics. It includes developing SEO strategies for international audiences by localizing content, aligning teams globally, and optimizing for local search engines. Learn how to make your websites mobile-friendly, drive organic SEO traffic through social media, and promote mobile apps. It will also teach you how to identify key SEO metrics, analyze them, interpret them, validate them, and report on success to your clients and stakeholders.
Advanced SEO is a bit complicated that requires specific qualifications. Before discussing advanced SEO, let us have a brief sense of SEO basics. We will understand SEO step by step.
What is SEO

When does SEO become necessary?

How does it work

Advanced SEO

Techniques of SEO

Top Institute for Advanced SEO Course

FAQ
What is SEO?
Search Engine Optimization is the term used for SEO. It is a set of techniques that are used to enhance traffic from organic search on search engine result pages. SEO helps to improve the website's visibility on search engines. SEO improves the visibility of the website on search engines.
The purpose of search engine optimization (SEO) is to increase traffic to a website or web page from search engines. It targets organic (natural) traffic rather than paid traffic. There are many ways for unpaid traffic to originate, including image searches, video searches, academic searches, news searches, and specific search engines.
To maximize the Internet marketing campaign effect, SEO analyses how search engines work, how search engine algorithms are programmed, what people look for, what are their actual search terms, and how their targeted audience prefers to search.
Search engine optimization helps a website rank higher on search engine results pages (SERPs) so that it receives more visitors from a search engine. Visitors can then possibly be converted into customers through these search engine results.
A good SEO includes many techniques.

Analyzing suitable keywords that are likely to increase search traffic.

optimizing and designing beneficial and high standard content for users and search engines

Providing useful links from good quality sites.
When Does SEO Become Necessary?
The necessity of SEO can be understood by an example- Maria has set up a new restaurant and she wants to promote her business at the international level. She made her business website and started posting recipe blogs on it. Despite her efforts, she is not getting even one comment on either her website or recipes. Almost a month has passed. Below are some reasons why she is not getting adequate attention to her business. Improper usage of keywords
Content is not legible

Slow webpage load time 

Poor link building 

Competitors have better content
She took the help of SEO methods to counter her problems. Using the methods, she understood the identification of potential keywords for attracting a quality audience, modification of content, and linking relevant sources and sites. Any search engine provides the result of searches based on three Components.
Crawling

Indexing

Ranking
Search engines always hunt for unique content for that reason they keep looking at different websites and locations. They scan websites and copy the entire website's content and store it in a search engine's index, this process is called crawling. Once all information is collected search engines index it. Indexing is the method of adding web pages to search results, it is known as the database of search engines.
How Does It work?
There are two types of SEO, both work for enhancing the visibility of websites on search engine result pages. 
On-Page SEO- Optimizing a webpage to gain visibility and rank high in search results and get the relevant search traffic is known as on-page SEO.
Off-Page SEO- Action taken outside the webpage or website to rank high in search results is known as off-page SEO.
A keyword is the most important element in SEO, choosing the right keyword is an essential task. It is a practice where you choose the prime and subordinate keywords around which meta tags and the content will be based on the prime components of keyword research that are mentioned below.
Search Volumes
Competition
Relevancy
Advanced SEO
Till now we have understood SEO and how it works. Now let us move forward to advanced factors of SEO. Advanced SEO has become a popular term in the internet marketing world and is so because of its demand. Setting up a new business is a huge challenge, and marketing it globally is even more challenging, but the techniques of SEO make it simple.
When a businessperson establishes his business, his ranking on search results is high, slowly its ranking goes down and he needs to use refined and modern SEO techniques to regain a high ranking.
Recommended Read: SEO Courses in Hyderabad
5 Most Important Techniques to Boost Ranking:
1. Search for Better Competitive Keywords
It is important to keep abreast of competitors' SEO strategies. The more you know, you can perform your own better website. You have to figure out what is trending in the market. What is more in demand and lucrative for customers? Accordingly, you can set your approach for setting the keywords. 
The best way to start with finding a better competitive performing page is to have an idea of wherefrom they are getting organic traffic and how it is being driven. some key points can be understood by examining the top page of the competitor.
Keyword gap

link gap

improvisation of existing content
The use of the SEMRUSH keyword research tool is the best way to analyze competitors' top pages.  Here you can find magical long-tail and good competitive keywords. It can be understood by going deeper into the site's page tab. How the organic traffic is to be performed. Simply find out which pages drive the most traffic to your competitors' websites.
To determine why these pages perform so well and how you can steal some of this traffic, you'll have to take this insight a step further. Instead of starting with keyword research, consider this to be an opportunity analysis or a shortcut to determining where your biggest wins can be found based on competitor activity.
As a result, you can determine which page-level efforts to focus on rather than keywords. You can also use this exercise to discover other websites that can compete with your own, that you may not have previously regarded as competitors. 
By clicking the Competitors tab on the same tool, you can see a list of competing domains as well as keywords and traffic estimates for each domain.
2. Save Time-on-site by Using Animated Images
Time on site has been found to correlate with Google rankings in a recent search engine ranking factor study. An animated image is a tool by which readers' attention can be grabbed. Readers will not skim the page but rather scan. That way, They read carefully your content and spend more time on your page.
3. Integrate Authentic Images Into Your Content
The truth is that people are more likely to focus on images than words. Images are also useful in describing your content precisely, Frame your pictures in such a way that they illustrate your content clearly. Here it is important to note that images should be original your copyright image, you cannot copy images from any site, however you may link with the site or you can use some free images. There are some sites like "Shutterstock.com" from which free images can be taken. You can also find some free crafted tools in the Microsoft Office word tool.
4. Create Backlinks
Writing part may not reach the customers unless it is linked to authentic sites. Statements backed by some facts and figures leave an impact on the audience. That is why it becomes necessary to create a backlink. Aim to link value pages that lure customer interest. In addition to using anchor text that includes your core keyword, you can also use related keywords in the anchor text to give the audience a better idea of where the link will lead them.
5. Increase Page Upload Speed
A better page upload speed improves ranking on google and attracts users. Google always prefers to serve its customer more effectively, thereby providing information speedily is a part of the ranking factor. Your content is available on other E-Platform though a customer may not wait for too long to open your page, they might jump into competitors' sites. Hence it is important to lift page speed.
Top 5 Institute for Advanced SEO Course
1. IIM Skills
In the Ed-Tech world, IIM Skills has emerged as an exceptional distance learning provider. Its unique online curriculum enables students to earn their certification remotely. Students from around the world complete their course while sitting at their place. Its certifications are recognized internationally. 
The objective of the institute is to provide extraordinary learning and its placements have proved it also. More than 25000 students have built their careers through this renowned institute. The reason for its high popularity is its amazing faculty and round-the-clock support system.
Some of the best-known courses provided by the renowned institute are the Content Writing course, Technical Writing Course, and Digital Marketing Course. The institute has introduced an exquisite SEO course for 1 month, which includes two months of paid internship.
Anyone seeking SEO expertise, from beginners to experts, can benefit from this course. In addition to the course's comprehensive knowledge and real-world experience, IIM Skills provides access to the course material for life through their Learning Management System, thereby making it one of the most comprehensive SEO courses on the market.
This form is currently undergoing maintenance. Please try again later.
Key Highlights of the SEO Course:
IIM Skills provides weekly four hours online classes. Learners get acquainted with new facts and enable to solve their queries through live interactive sessions. Since these classes are so engaging, students don't feel intimidated by long class hours. Each lesson is followed by a practical assignment for better understanding. Once the assignment is submitted, a tutor will review it and provide feedback. Students have the opportunity to analyze their performance on every topic.
Lifetime Access to Study Material
Students have lifetime access to study materials at the institute. The recording of every session is given to the students afterward. It can be preserved for lifetime learning and can be revisited at any time to refresh knowledge. Recorded sessions are also useful when completing assignments. 
The Institute ensures every student gets his job placement while finishing his course. It introduces learners to possible career paths and encourages them to apply. Depending on their interests, students can find appropriate employment positions.
Moreover, the institute provides its students with paid internships. Students have the opportunity to get remuneration while completing their courses. This scheme allures more students. Students are attracted to this scheme because it allows them to become financially independent.
Round The Clock Support System
The around-the-clock support system enables the learners to deliver productive results. They can get their query resolved at any time especially students from abroad who have their odd timings get benefitted from this unique facility.
Market trending skills like SEO, digital marketing, and social media marketing apply to real-life situations. Knowledge of these skills, in theory, won't help you much in the real world. Therefore, the IIM Skills SEO Course includes practical assignments, weekly tasks, and case studies that are 100% practically oriented. As a result, the course is a significant player in the market and is justifying its feedback.
Skills are recognized globally for their master certification. Its certificate is valued all over the world which is why students from around the world approach this institute for their enrichment of knowledge and get benefited by adding this certificate to their resume.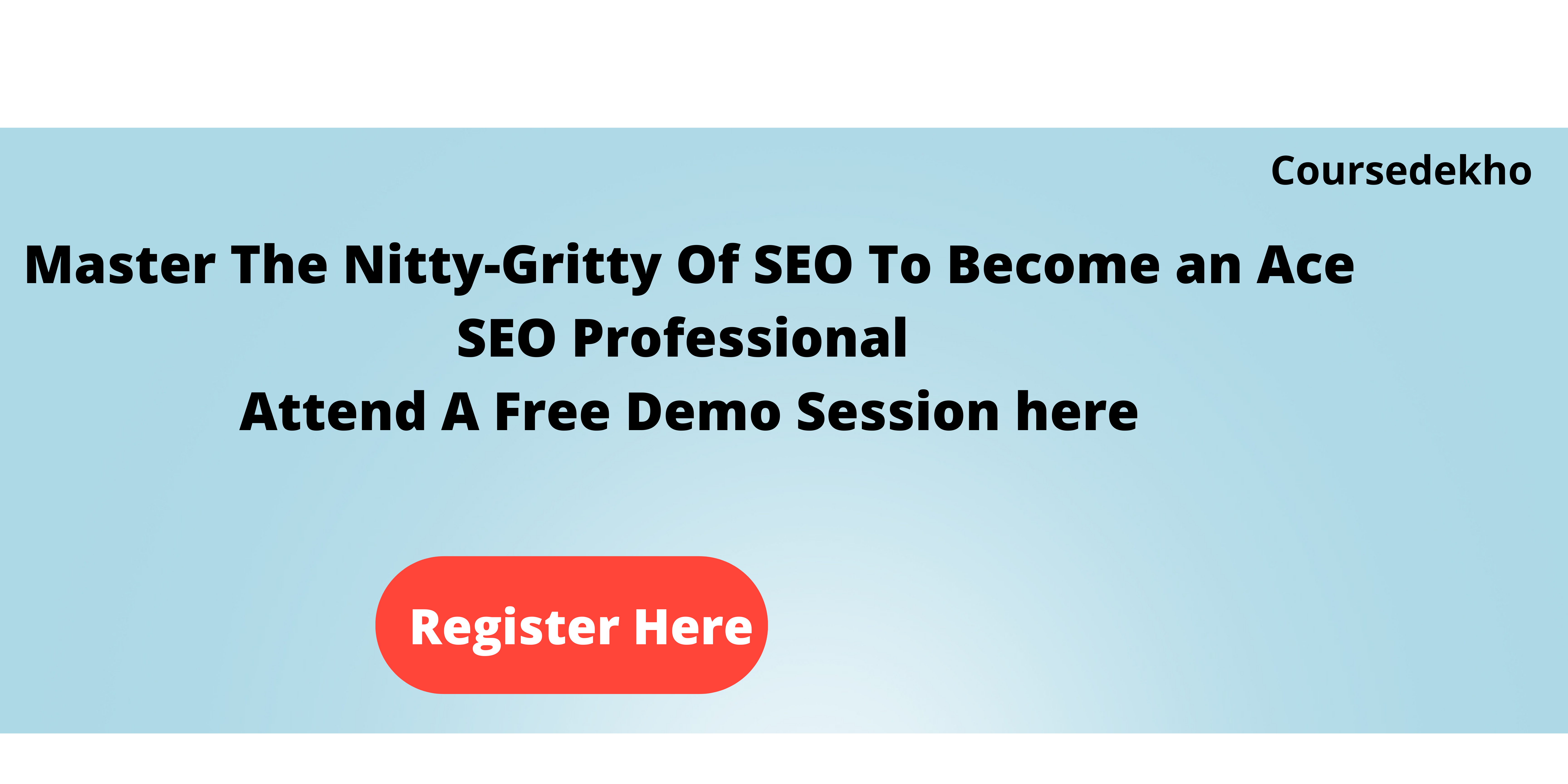 Course Center Component
Basics of Search engine Optimization

Keeping abreast of the latest changes in SEO algorithms

Advanced Techniques of SEO

On-page SEO

Off-page SEO

Keyword research and improvisation
2. Udemy
Udemy, Inc. is an exhaustive online Advanced SEO course provider focused on students and professionals. Referring to the course which consists of efficacious advanced SEO strategies that enable learners to deliver wonderful results. The Institute is concentrated too on improvisation of keyword ranking so that the best search engine result page can be achieved. This course is suitable for beginners, bloggers, webmasters, SEO agency owners, and online marketers.
Course Includes
Introduction of SEO

Advanced Keyword Research and Content Production

Modern on-page and off-page SEO strategies

Advanced link building techniques

The future of SEO

Conclusion
Key highlights
2.5hours on-demand video

4 downloadable recourses

Full lifetime access

Completion Certificate

Money-Back guarantee
Recommended Read: SEO Courses in Pune
3. Moz Academy
Moz Academy has set its hands-on Advanced SEO course. The institute is an expert in providing value-added SEO courses with the latest developments on the E -platform. The Moz SEO certification provides foundational knowledge on the optimization of search engines. The course consists of 4-week interactive sessions, an assessment followed by an MCQ-based course completion exam.
With this professional course, you will learn how to leverage your existing SEO knowledge to boost your business's online success from the ground up! The course materials will be accessible to you for one year, excluding promotions, so you'll not only gain valuable new skills but also save a lot of time. This makes it the best-advanced SEO course available today.
Course Include
Fundamental of SEO

Develop keyword ranking strategies

Essential link building

Effective on-page SEO

SEO Audit

Final Exam
Key Highlights
5 hours video content program

Practical Assessments

Printable certificate and LinkedIn badge

Free Moz pro tools

Support in the development of the website
4. Coursera
The institute brought a comprehensive course on technical, mobile, and social strategies for increasing traffic on the Search engine result page. The course is designed for an international audience. Students from all over the world get benefited from this excellent online course.
They learn how to explore strategies for optimizing mobile-friendly websites, getting mobile applications discovered, and leveraging social media to drive organic SEO traffic. The course also introduces key SEO metrics and the tools for collecting, analyzing, validating, and communicating success to your clients and stakeholders.
Course include
SEO Techniques

Data Analysis

Digital marketing

Mathematical Optimization
Key Highlights
Sharable Certificate

Online interactive sessions

Flexible deadlines for completing tasks

Tool based learning

Value-added data analysis for stakeholders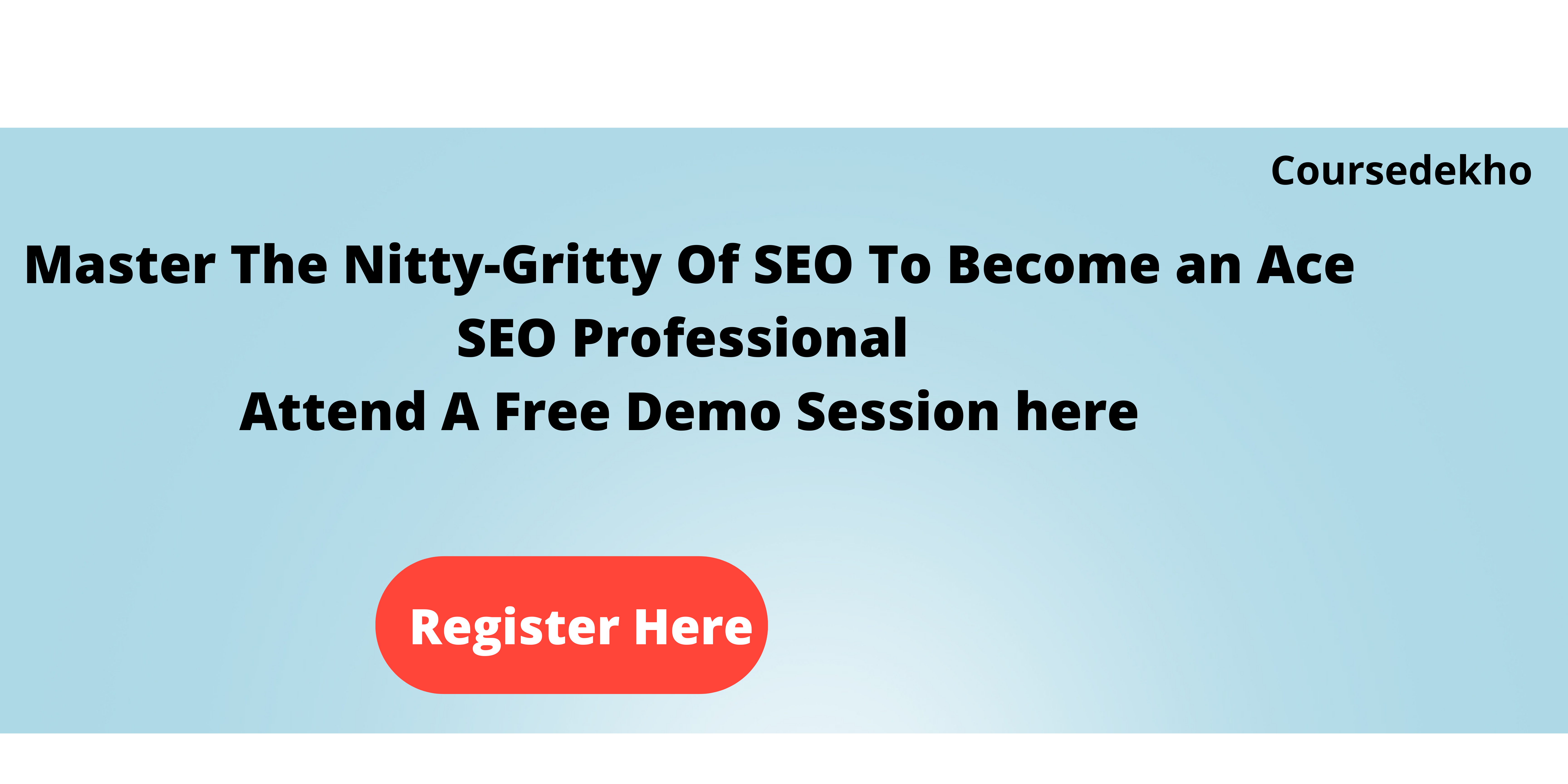 Recommended Read: Digital Marketing Courses in India
5. PraxisNow
PraxisNow is a digital marketing service provider. It has developed a multitude of solutions for clients with a wide range of challenges. So chances are if you cannot immediately identify your challenge, their experience base will surely help in bringing an effective solution to the challenges you face.
The institute has launched an exhaustive advanced SEO course for those who want to become game-changer. They have helped many businesses to up their game in digital marketing and search engine optimization. Its advanced SEO course does not impose a burden to make a change however shows the path to uplift the business in the digital world.
Course Include
Indexing the online sale process

Alignment of the sales process with buyer purchasing behavior

Addressing sales lead nurturing

Keyword ranking improvisation

Overview of Digital Marketing

SEO strategies
Key Highlights
Flexible online sessions

Easy payment options

Game-changing techniques

Practitioner and Advanced Certification program

Lifetime availability of study material
Frequently Asked Questions
Q1. What would be the cost of the Advanced SEO course? 
There are a variety of Advanced SEO course costs: beginners can enroll in two-day, one-day sessions that range from $ 290 to $ 700. The classes cover the basics (perhaps discussing what a keyword is, and maybe diving a bit further into vocabulary). The advanced level cost $ 1100 to $ 4000.
Q2. What will be the suitable period for the Advanced SEO course?
 The advanced SEO course can be completed in as little as 3 – 4 months by dedicating 6-8 hours per week to studying, however, you will have access to all online resources and subject expertise for one calendar year.
Q3. What are the prospects for SEO as a career?
SEO is the most demanded career in digital marketing so it's one of the best career choices. Several companies in the world hire SEO professionals to generate better content and hence generate more leads.
Q4. Is it worth taking an Advanced SEO course?
An Advanced SEO certification can be a great way to increase your marketing knowledge, upgrade your skills, and learn new strategies and methods that will help you improve your results.